RECYCLING CENTRE – CIVIC AMENITY – WASTE FACILITY – TRANSFER STATION
Fitzgerald Skip Hire's fully licensed waste facility in Limerick City processes all skip waste with zero waste going to the dump or landfill.
We are excited to offer our customers a new pay by weight service at our Recycling Centre, where waste can be recycled and handled in a safe manner. "You can bring your car, van or trailer load of junk. It's been great to see our customers make use of the amazing recycling facilities we have to offer! The positives also include – zero waste going to landfill and we accept construction waste also!" Charlie Fitzgerald, Managing Director.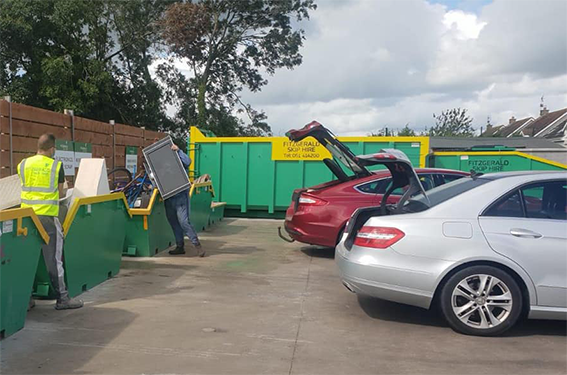 We accept all kinds of segregated and bulky mixed waste, from full house clearance (furniture, mattresses etc.) to small garden projects (green waste, timber, earth, rubble). Note: We do not accept domestic bin or food waste.
Call us on 061 414200 to enquire about our Recycling Centre today.
Commercial building waste
We accept all kinds of building and construction waste at our facility. Builders can bring waste availing of the weight and pay service.
Prices are per kilo of waste. (Please check with our weighbridge office on the day for current pricing).