Posted on 27th April 2023
Limerick Businessman Honored as Ireland's Waste Industry Leader
Charlie Fitzgerald of Fitzgerald Skip Hire receives prestigious accreditation from All-Ireland Business Foundation
Limerick-based businessman Charlie Fitzgerald has been accredited as Business All-Star Waste Industry Business Person of the Year 2022 by the All-Ireland Business Foundation (AIBF).
Charlie, the Managing Director of Fitzgerald Skip Hire in Limerick has been praised by the autonomous accreditation body's adjudication panel for his passion, enthusiasm and the overall professionalism with which he conducts his affairs. He was also hailed for his sustained commitment in the areas of trust, performance and customer centricity. Fitzgerald Skip Hire is also accredited as Business All-Star 2022, and is included in The AIBF Register of Irish Business Excellence (TRIBE).
Charlie and his team had the privilege of hosting a visit from Billy Kelleher MEP, Willie O'Dea TD, and Elaine Carroll, the CEO of AIBF. During the visit, Charlie was presented with the accreditation, followed by a tour of the Recycling Centre and Waste Transfer Station, gaining a comprehensive understanding of the center's operations. Cllr Catherine Slattery and Cllr Azad Talukder were also present at the event.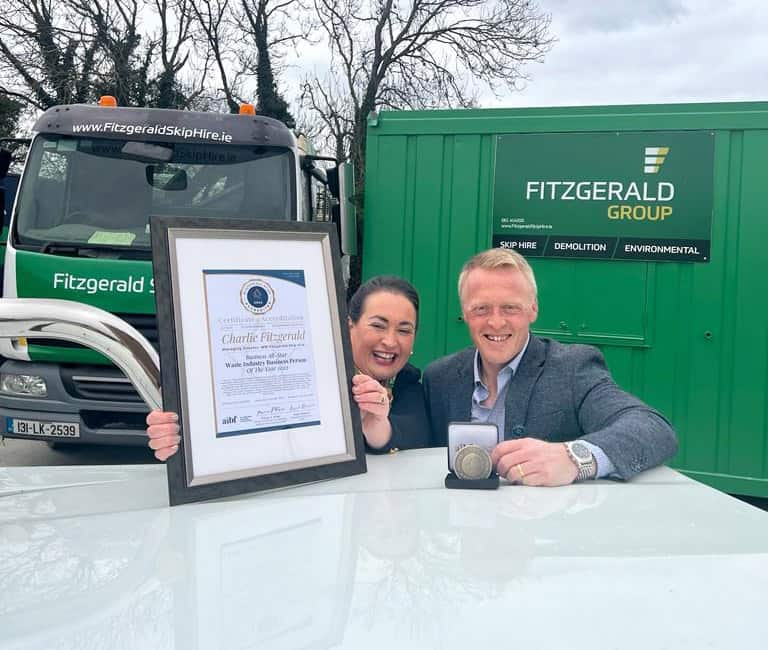 Founded over 30 years ago, Fitzgerald Skip Hire a family-run business has grown year on year and continues to grow, adding new services to its many new and existing customers. The business services a geographic area of Limerick, Clare and Tipperary.
The Company headed by Charlie Fitzgerald offers the largest range of skip hire services in the market along with Contract Demolitions, Environmental Services, Site Clearance and operates a Fully Licensed Recycling Centre and Waste Transfer Station in Limerick City. The company believes in the local economy and are keen supporters of its local community, offering support via sponsorships and helping out in the community.
"I am truly honored to be even considered for such a category. It's all down to our team who share my passion" Charlie Fitzgerald, Managing Director
Speaking at the announcement, Deputy Chair of the Adjudication Board, Kieran Ring, said:
"The All Ireland Business Foundation is delighted to honor Charlie Fitzgerald, Managing Director at Fitzgerald Skip Hire, with its Business All-Star Waste Industry Business Person of the Year 2022 accreditation. In Charlie, we find a perfect ambassador for the waste industry. He is renowned for his work ethic, a family value handed down from one generation of the Fitzgerald family to the next. The family business is an important part of Limerick business and in great hands, those of Charlie."
Continue Reading >